A committee set up to investigate the finances of the Imo state government under the Rochas Okorocha administration says it has uncovered N112.8 billion "dubious debts" owed the state by nine commercial banks.
It said the monies owed by the banks were claims from various infractions, including unexplained debits as well as penalties arising from such, in their dealings with the state government.
Some of the questionable debits from the state's accounts, according to the panel, are:
excess penal claim
excess COT charges
excess interest on authorised overdraft
excess interest collections on loans
wrong debits recovery
double reversals
inappropriate facility fees
excess advisory and processing fees
excess management fees collections on disbursement
net loss on investment of short term facility.
The panel was set up by Emeka Ihedioha, immediate past governor of the state, with the mandate to review all financial transactions of the state during the eight-year administration of Okorocha, now a senator.
In a February 6 letter to Hope Uzodinma, Ihedioha's successor, the committee said while the banks are to refund the state N74.6 billion as principal amount from alleged infractions and penalties, they are to pay another N38.2 billion as principal sum and penalties.
IMO'S CLAIMS SUMMARY AGAINST NINE BANKS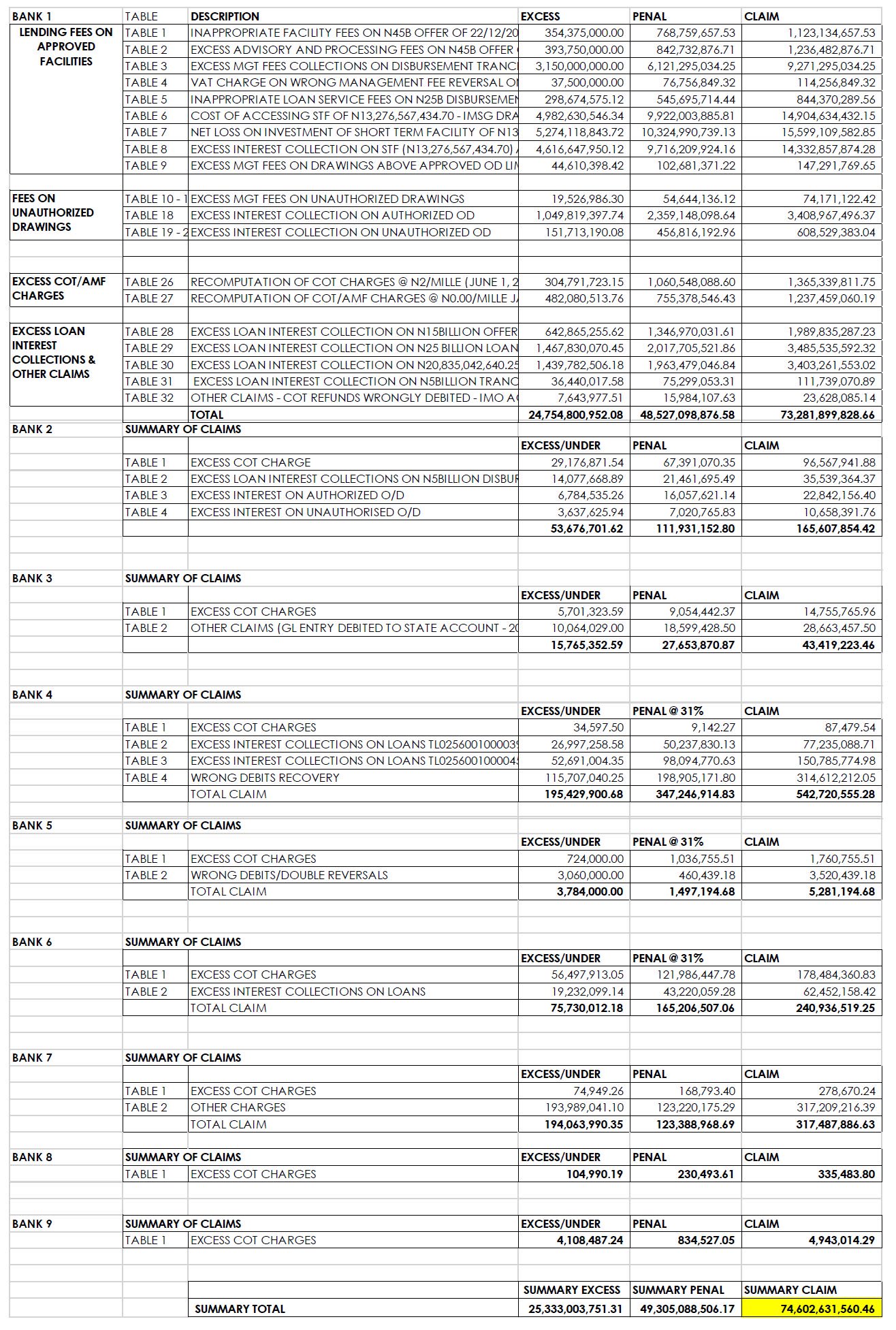 The letter, signed by Abraham Nwankwo,  the committee chairman and former director-general of Debt Management Office, said part of the N38.2 billion arose from various debits from the state accounts without "proper" narrations.
TheCable obtained a copy of the letter.
It read: "Based on the joint report of the consortium of consultants, the nine banks that came under review were to refund the sum of N74,602,631,560.46 to the state as principal amount involved in such infractions and attendant penalties.
"In addition, the sum of N38,221,701,806.96 were to be claimed covering the principal sum and attendant penalties arising from the aggregation of debit entries to the state accounts without proper narrations and for which no explanation was provided to the committee despite repeated demands."
The committee added that while formal demands for the refunds were issued to the banks on December 3, 2019, a majority of them were yet to respond after the 30-day deadline.
It said it was considering a number of measures to recover the funds, but suspended further action following Ihedioha's removal from office.
It asked Uzodinma to ensure recovery of the funds as it would be a "grave and historical insult, assault and financial rape of the state if the recovery is not vigorously pursued under whatever excuse".